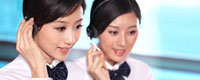 Skype: sindy6131
Skype: waynexu1989
E-mail: admin@queenswing.com




Product name : 30A-200A Battery Conductance & Electri System Analyzer

Item : Micro-468

Price : Negotiated
Details:
MICRO-468 Digital Battery Tester adopts currently the world's most advanced conductance testing technology to easily, quickly and accurately measure the actual cold cranking amps capability of the vehicle starting battery, healthy state of the battery itself, and common fault of the vehicle starting system and charging system, which can help maintenance personnel to find the problem quickly and accurately, thus to achieve quick vehicle repair.



Product Advantage:
Simple, secure, fast, and accurate display battery life test results (the test takes about 3 seconds)
Eight lines with backlight LCD display and humane language prompted interface
Does not emit light, no heat, no discharge, no spark, no operating dangerous
Automatic temperature compensation function with ripple voltage test function Multi- language menu display
Removable replacement test line
Dedicated Kelvin test clip
Advanced Functionality:
Applicable to a variety of models, all kinds of batteries, and a variety of system mode
Directly detected in the car, do not need to remove the battery
Directly test the battery of the loss of electricity, bad cell battery
Battery test results include the State of Health %, State of Charge % and actual CCA capacity.
Scope: suitable for 6V & 12V battery and 12V & 24V starting and charging system detects
Model Feature Comparison
Item Number

Rating Systems

MICRO-468 (Car)

MICRO-468M(Motocycle)

CCA

100-2000

20-1000

DIN

100-1400

20-700

EN

100-2000

20-1000

IEC

100-1400

20-700

SAE

100-2000

20-1000

JIS

26A17-245H52

26A17-190H52

Charging System Test

Yes

Yes

Starting System Test

Yes

Yes

With Integrated Printer

No

No
Specifications:
1) Voltage Measure Range:6-30DCV.
2) Temperature Measure Range:-18°C - +70°C.
3) Cable Length: 120cm (3M optional)
4) Housing Materieal: Acid-resistant ABS plasticd

The goods pictures: