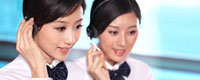 Skype: sindy6131
Skype: waynexu1989
E-mail: admin@queenswing.com




Product name : Micro 300W Portable Auto Car Power Inverter

Item : QW-300MUSB

Price : Negotiated
Details:
Micro 300W Portable Auto Car Power Inverter (QW-300MUSB)
Description:
Car Power Inverter convert 12/24V DC into 110V/220V AC, Only simply plug your inverter
Into the cigarette lighter socket from the console in your vehicle then get power for your electronic Devices such as laptops, DC players, phone chargers etc. USB charging port offers an additional choice for user. It can charge for digital equipments.
Features:
1. Multiple protection circuit designed, no harm for battery and machines.
2. Intelligent temperature control cooling fan, effectly prevent inverter over-temperature inside
3. Aluminium alloy housing, sturdy and durable
4. With battery clamp & car cigarette plug on 100W, 150W, 200W, 300W, 400W, 500W, 600W, 800W, & 1000W
5. With over-load, over-voltage, lack-voltage, over-temperature and short circuit protection
6. USB port with external fuse
7. Small size, light weight, easy to carry to anywhere
8. High quality, was approved CE & Rohs
Protect functions
1. Over load
2. Over current
3. Over voltage protection
4. Low voltage protection
5. Short circuit protection
6. High temperature protection
7. Reverse connection protection
8. External fuse protection
Application:
Perfect to supply power to Notebook, digital camera, video camera and other appliances when you travel on the vehicle, camp, voating or other outside activities.
Supply stable power for household appliance such as TV, computer, DVD, VCD, satellite receiver, printer, light, fan, game player etc.
Also it can be widely used in the districts with unstable power or supplied Power by the solar or wind energy sources.
FAQ:
1. What is Inverter?
Inverter is an electronic equipment that turn DC12V/24V/48V into AC110V/220V/230V/240V.
2. How many kinds of output wave form for Inverters?
Two kinds:
Pure sine wave Inverter: It could provides high quality AC and carry various loads, While it requires high tech and high cost.
Modified sine wave Inverter: It can load poorly not carrying inductive load, but the price is moderate.
3. How to choose a power inverter?
Mose of the electronic products are signed out their rated power, and the rated power should be less than the rated power of the power inverter.
The method of how to estimate the power(W): The total of load power should be equal to the rated power(W) of the power inverter.
About us:
Queenswing is a professional manufacture specialized in Power inverter and solar products, We have professional development team. We pursues to establish the culture of "quality first, reputation best ".
Product category
Car Power inverter
Car Inverter with USB Port
Pure sine wave invertrer
UPS Pure sine wave inverter with charger
Modify sine wave inverter
UPS power inverter with charger
Our products usually are exported big quantity in to Europe, USA, African, Russia, Australiaetc. And our power inverter serials enjoy better reputation. With reliable quality and stable performance.
Payment:
Western Union, T/T or Cash Credit card
Shipment:
By sea, by air or International express -- DHL, EMS, Fedex, UPS or customer assigned.
Lead Time:
Sample orders will be delivered within 7 working days.
If order quantity below 100pcs, delivery time is 7-15 working days.
Container orders will be delivered within 15-30 working days.
Warranty: 1 year.


Technical Parameters:
Model
100W
150W
200W
300W
500W
800W
1000W
1200W
Rated Power
100W
150W
200W
300W
500W
800W
1000W
1200W
Peak Power
200W
300W
400W
600W
1000W
1600W
2000W
2400W
Input Voltage Range
12VDC(10VDC~15VDC) or 24VDC(20VDC~30VDC)
Output Voltage & Frequency
AC110V/220V/230V/240V 50Hz/60Hz
Waveform
Modified Sine Wave
Lack-voltage alarm
10VDC~10.5VDC or 20.5VDC~21.5VDC
Lack-voltage cut off
9VDC~10VDC or 19.5VDC~20.5VDC
Over-voltage cut off
14.5VDC~15.5VDC or 29VDC~31VDC
Temperature protection
≥65ºC
Protect function
over-load, over-voltage, short-circuit, lack voltage, high temperature, reverse conection
Convert effective
≥90%
Working temperature
0ºC~40ºC
Cooling fan
no
yes
yes
yes
yes
yes
yes
yes
Buzzer alarm
no
no
no
no
yes
yes
yes
yes
Size(L*W*H)
115*65*38mm
160*100*54mm
200*100*54mm
270*100*55mm
N.W(kg)
0.3kg
0.5kg
0.7kg
1kg